Episode 1: The First One
Let's take a trip into the darkness for the first time...
2 years ago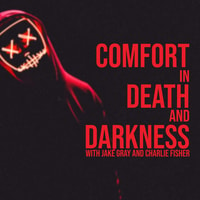 It's finally here! We have arrived, people!
The culmination of about 5 months of planning has come to this. Apologise in advance, towards the end of the show one of the microphones broke. Luckily, Charlie's mic was good enough to pick up Jake too. So we have that going for us at least.
In the first episode of CIDAD, we talk about the Disappearance of Madeline McCann Netflix series, a turd that was once involved in the UK government and, finally, the Dyatlov Pass incident. Turn out the lights and join us.
Timestamps:
0:00 - Introductions
6:15 - The Disappearance of Madeline McCann Netflix talk
11:16 - Talk about some racist turd
16:55 - The Dyatlov Pass Incident
46:21 - Outro
Link to companion photos: Instagram link
Socials:
The Show's Instagram
Jake's Instagram
Charlie's Instagram
The Show's Twitter
Jake's Twitter
Charlie's Twitter
Find out more at https://cidad.pinecast.co
This podcast is powered by Pinecast.