Episode 4: "I Wanted To Be An Avon Lady!"
If your child kills animals for fun, you should probably notify police... like, yesterday!
a year ago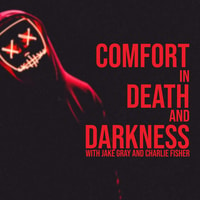 Episode 4 - "I Wanted To Be An Avon Lady!" - Show Notes
Episode 4 has arrived! In this episode, we talk about sides of the bed, a former YouTube star turned prison inmate, a slew of murders involving a hammer and a couple of murders where people were killed at point blank range with both sets of stories have footage somewhere on the internet!
Turn out the lights and join us.
AUDIENCE PARTICIPATION!
Yes! Jake & Charlie want to know what the creepiest thing that has ever happened to you is. It could be anything as long as it gives us or you chills. From ghost stories to creepy encounters to witnessing a crime, it's fair game on this show!
So email in your responses to [email protected] and we'll read them out in a future episode! Thank you for playing!
Timestamps:
0:00 - Introductions & News
11:30 - The Dnepropetrovsk Maniacs
32:15 - The Murder of Thach Dien Thiet Duong
38:39 - Creepy Things that have happened to us
45:52 - The "<strike>Mental</strike> Brain Floss" Outro
Link to companion photos: coming soon
Socials:
The Show's Instagram
Jake's Instagram
Charlie's Instagram
The Show's Twitter
Jake's Twitter
Charlie's Twitter
Find out more at https://cidad.pinecast.co
This podcast is powered by Pinecast.